Hello, my fellow Decocrators! I'm Tiffany and I am the author of a blog called The Quirky Mom Next Door. I've got five children and we just relocated from New Jersey all the way to Tennessee. 
Now, we've got this big new house which was in desperate need of home decor to spruce it up. That's how I came upon Decocrated! I am so in love with this subscription service and I love talking about it to anyone who will listen. I feel like there are two kinds of Decocrators. First, the ones who will wear earmuffs and blindfolds so as to avoid any spoilers before their box comes. Then, there are the ones who will search high and low for next season's spoilers the minute they receive the box for the current season.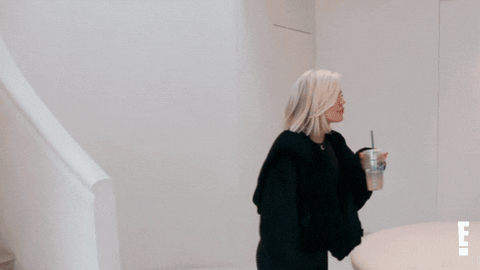 I started out as the first one but by my second box, I was working hard to find those spoilers. I even went as far as to doodle out my plans for each and every piece before it even arrived. 
Yes, I'm that dedicated to my Decocrating! All of this leads me to the tote bag in the Spring 2020 box. When you think home decor, you may not think about tote bags, but the beauty of Decocrated is the versatility. There are so many ways to use each piece in the box and if you boost your creativity even more with #DecoHacks, the possibilities are endless. 
I immediately saw the burlap tote bag among the spoilers and thought "Challenge Accepted". I see your tote bag and raise you 21 reasons this bag is awesome and useful. 
1. General storage: No matter what you need to pack away, this bag can hold a lot more than you'd think from pictures!
2. Craft bag: (especially yarn!) Craft supplies that are used the most frequently should be portable. I like to fill the tote to the very edge with balls of yarn! 
3. Grocery shopping: Where we lived in New Jersey, you were actually charged for plastic bags while grocery shopping so everyone was beginning to transition over to the environmentally-conscious reusable bags. "It's What's Inside That Counts" truly applies here because that bag has my taco supplies in it. Where would you be without your tacos? 
4. Beach/Pool bag: Lugging a bag to the beach or pool is a hassle, so it's nice to be able to fit everything into a bag that also won't break. Now you've got somewhere fashionable to put your towels and sunscreen! 
5. Kids toys: When they're not being used, toys need somewhere to be other than all over the floor. This bag is practical, allows you to easily take toys with you on-the-go, and makes for a cute decoration in the playroom. 
6. Easter Bag for eggs hunt: I know our generations liked to put everything in pillowcases but it's 2020 now and we can have fancy tote bags that are strong enough to hold all the eggs they find. Potential bonus, a fellow parent might be distracted admiring your bag and totally miss that golden egg! 
 7. Put flowers inside it: If you peek around "The Decocrators" Facebook group, I think the flower decor is a popular choice. Artificial flowers accent this piece so beautifully!
 8. Add flowers to it: Not interested in putting the flowers in the bag? What about on it? Foam or artificial flowers glued or sewn on would give it a lovely pop while still leaving it functional for other uses. 
9. Picnic bag: Hey Boo Boo, it's a cute pic-a-nic basket! It fits both of those footlong subs and all of those strawberries! 
10. "Returns" bag: At my house, we have what we call a "return bin". The return bin is the bin that we leave at the bottom of the steps for toys and other things that go upstairs to be put away. Every day, someone brings the return bin upstairs and puts everything away for me. It's usually just full of toys that need to go back to the playroom but it's helped us to keep things tidy! This bag would be perfect hanging on the bottom of the stairs to hold items for the same purpose
11. Car travel bag: (with my new blankie) This tote bag is great if you have travel items that you like to keep in your car, like your sunglasses or a book that you like having readily available to you. I'm particularly a fan of this idea during the winter when I've got my big old car blanket to keep me warm. 
12. Gift bag: If you are going to a housewarming party, I think that there would be absolutely no better way to package your gift. It's a sturdy, pretty, and reusable gift to enclose that home decor you've bought them! 
13. Gym bag: Bring your spare change of clothes, personal towel, and anything else you like to bring with you for your workout! 
14. Hiking bag: We are constantly hiking and I change up my bags all the time but I definitely need a bag at all times because I keep my camera, water, and trail mix in there! A tote bag would definitely serve this purpose. 
15. Bag of bags: As much as we all may hate plastic bags, they're still useful for cleaning the litter box, bathroom trash, and simple things like that. They are unsightly though, so I like to use a pretty tote bag to hold all of my plastic bags for me! It hides this dirty little secret well! 
16. Hot tub bag: (with a book inside) When I want to relax alone in my hot tub, I bring a robe, towel, water, a book, and yeah, probably a snack. It's easier for me to gather all of that up in a bag and let it sit out there with me. Not only do I like having the convenience of the bag, but I also love the way it looks out there! 
17. Work: (laptop inside) Laptop bags are great but they tend to just fit your laptop snugly inside. I like to have my notebooks, pens and pencils, and often my camera with me. Anyone who works in multiple locations should be able to appreciate that. 
18. Bicycle bag: Off for a bike ride? Whether it's to Grandmother's house you go or just for some exercise, it's nice to have a bag with you! 
19. Diaper bag: Motherhood doesn't have to be synonymous with frumpy. If you're using an old beat up diaper bag that's been through a couple of kids, you needed this Decocrated tote bag and you're welcome. When the kids are older, it still makes for a good toddler and preschooler snack and resource bag! 
20. With a wreath:  There are so many different ways to style a tote bag as decor around the house and one of my favorite ways is with a wreath behind it. I'm thinking a plain green leafy wreath would be perfect!
21. Photo prop: A beautiful bag can accent a picture in the best way! 
I'm sure there are so many other great ways to use the spring tote bag and we want to hear about your ideas too!
Share with us in the comments below! If you'd like to follow along with me on my own blog, you can check it out at thequirkymomnextdoor.com or find us on Facebook and Instagram @thequirkymomnextdoor